Ollie's Man Trip – About the Trip
The Man-Host
The manliest man I know just happens to live in Alaska… my cousin Rob. Not only did he take a week off from work to show us around, he and his beautiful wife allow us to use their home as our base between jaunts. I deeply I deeply appreciated his sense of adventure, his "why not?" attitude to our every whim, his willingness to pull over at random places so we could all pile out and go exploring.
Rob spent countless hours driving us all over creation and pretty much knew something about everything. And when he didn't know, Rob were fast on the draw to google for answers.
If ever anyone is need of an Alaskan Man-Host, I know just the fella.
Our Adventures
Ollie's Man Trip took us to Alaska for a week. Having little experience flying, the trip out was an exciting adventure of its own for Ollie.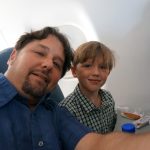 On the way up, we had a 3 hour flight to Minneapolis–Saint Paul and then a 6 hour flight to Anchorage. Lucky for me, my dad–a retired Delta Airlines mechanic–was able to cut the cost of flying in half by providing "Buddy Passes". Flying standby introduces a degree of uncertainty, but everything worked out for us. And, as a bonus, Ollie and I ended up enjoying First Class comforts on the long leg (6hr flight), both there and back.
Ok, so what did we do? Using my cousin's house as a base of operation…
Wait. Before I get to specifics, there's something I need to mention. If you've ever been to Alaska, then you already know this. But this was my first time there, and I was wholly unprepared for… I dunno, how I would feel? The vastness of expanses, the epic hugeness of everything. The skylines, the backdrops. The wide, flat lowlands surrounded by enormous mountains that had been ripped out of the grounds and pulled through the clouds. The hand of God. The violence of nature's process, the tininess of humanity next to it all. Words simply cannot convey this experience.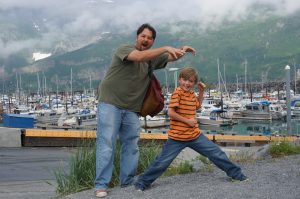 Alright, so using Rob's place as base of operations, we were able to cover a lot of ground. Highlights that include:
 • Climbing Flattop Mountain
 • Camping on Homer's Spit
 • Deep sea fishing
 • Landing a ski plane on a glacier
 • A real Polar Plunge!
Day 1 – Sightseeing & Moose Kissing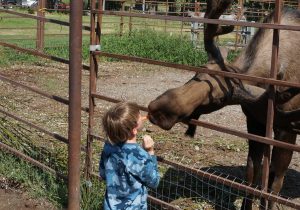 Our first day in Alaska was all about acclimation. Though we had arrived in the early evening, it was late at night to our bodies. But we were excited to be there and ended up staying up even later.
Rob had anticipated this and mapped out an easy start. We visited a reindeer farm, then took a laid-back hike.
The scenery was absolutely breathtaking! 
Day 2 – Climbing Flattop Mountain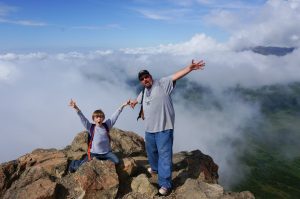 Located inside the Rocky Mountain National Park, the Flattop Mountain trail is only a 3 1/2 mile loop, but it gets fairly steep for the last third of the ascent. Though it never gets to the point that you need climbing lines, there are some sections, especially near the very end, where climbing becomes necessary.
Technically it was a hike, but quite a rigorous one. But talk about a payoff!!!
When we finally made it to the summit, we found ourselves quit literally in the clouds. Above them, really. With a 360° view of panoramic awesomeness!
Day 3 & 4 – Camping & Fishing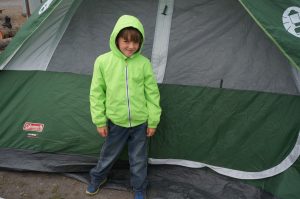 At the end of days 2 and 3, we camped for two nights at the tip of Homer Spit, which is basically a very narrow, two mile long sandbar sticking out into the Kachemak Bay.
Ollie and I both love camping, and camping in Alaska was fantastic. But there was one oddly off-putting detail… the sun didn't even set until 11pm. Tough telling Ollie he should have been asleep an hour ago, when I'm sitting by the fire wearing sunglasses!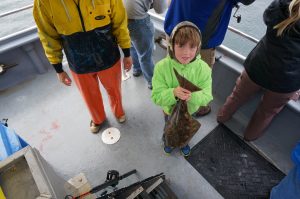 On the first morning we were up with the sunrise (at 5am, ugh!), to grab an early breakfast and catch a charter. Out we went into the Gulf of Alaska for some deep sea fishing, where we each caught our limit for halibut.
We did enjoy some battered and fried halibut a few nights later when we were back at Rob's, but most of it got packed into a suitcase and transported home for later enjoyment.
Day 5 – Landed a Skiplane on a Glacier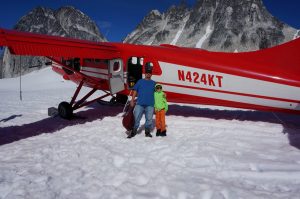 On the 5th day in Alaska, we drove out to the town of Talkeetna and caught a small plane for some "flight seeing". Our ultimate destination was a glacier, but getting there (and back) truly was half the fun!
The plane flew us into Denali National Park, skirting around Mt Mckinley (er, Mt Denali; the highest peak in N America, 20,156ft), and actually landed on the snow up in a mountain valley on a glacier. We made snow angels, had a snowball fight, and Ollie got to be the copilot!
During the return flight, we had a little extra entertainment. The pilot flight flipped controls so that he could speak to us over the headsets, which also allowed us to hear transmissions coming from the tower (I don't think he meant to do that).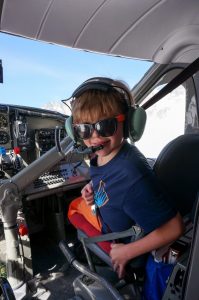 About 5 minutes out, another pilot (from another plane, not ours) comes on the line and tells the tower that he has a problem, he believes his landing gear is stuck and not fully deployed.
Talk about nuts! The whole way back, we listened as the drama unfolded. The tower instructed this guy to do a low flyby so they could get eyes on him. A few minutes later, the tower comes back on the line and confirms that one of his wheels is not fully deployed. They tell him to standby so they can consult a mechanic.
Lemme tell you, that pilot was just as cool as a cucumber. Totally chill as the conversation continued. At one point he asked for their opinion as to whether or not he should tell his six passengers what was going on ("No, not advised just yet.").
Our landing gets delayed when the tower informs our pilot that they have a situation, please maintain altitude and circle the airport. Eventually a mechanic gets on the line, tells the other pilot where he can find a pneumatic override, try pumping that. A few minutes later, the pilot comes back on to say he thinks that worked but requests another flyby to confirm. A few minutes later, ground control confirms that his landing gear is looking good (everybody on our plane cheered!) and to go ahead and set her down.
They landed without incident and, a few minutes later, so did we.
Day 6 – Glacier Hike & a Polar Plunge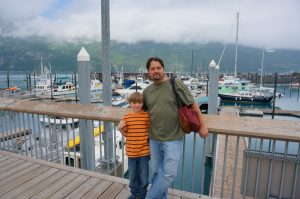 On our final day in Alaska, cousin Rob took us to the town of Whittier. In a car, the town of Whittier is accessible only by a narrow, one-lane, 2 1/2 mile tunnel (the 2nd longest tunnel in N America).
Coming out the other side is like arriving in another world. Hands down, Whittier is absolutely the most beautiful town I've ever visited!
After Whittier, we hiked up to Byron Glacier. Ollie had a blast body-sliding down snowy slopes, making snow angels, and getting pummeled with snowballs.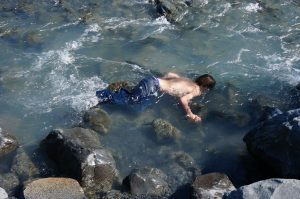 On our way back down the trail, Ollie and I decided to take a polar dip… dunking ourselves in a stream that flowed out from beneath the glacier.
Little known but painful fact? We found out the hard way that 34° waters cause INSTANT brain freeze! Imagine shoveling freezing ice cream into your mouth too fast, only multiply the agony. And instead of experiencing pain exclusively in the top of your mouth, imagine the entire top of your head being pinched in a vice!
Photo Albums
The following albums have been organized by day, more or less in chronological order: