Josh's Man Trip – About the Trip
The Man-Host
Manuel Ortiz, of the Costa Rica Rios, was our main guide. Though we didn't exactly pal around with him 24/7, was with us every day, from breakfast to dinner.
Our Adventures
Josh wanted to see the jungle, so this trip took us to Costa Rica for 8 days. But the first in last days don't really count as each was consumed by fourteen hours of travel.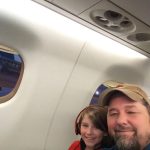 On the way down, we left home at 4:30am and arrived at 7pm (local times). We flew from Jacksonville to Ft. Lauderdale, had a two hour layover, then on to San José where we caught a 3 hour bus ride to Villa Florencia—our final destination. Going home we followed the same in reverse, arriving just after midnight.
Ok, so what did we do?
The majority of our trip was spent in the mountains of Costa Rica. Our base of operations was Villa Florencia, outside the town of Turrialba (Cartago Province, in the mountains). When we went to the beach, we stayed at Cariblue in Puerto Viejo (Limón Province, on the Caribbean). We also spent 3 days, 2 nights at the Pacuare Eco Lodge (frikken awesome sauce!!!!).
Everyday down there, I was up by 6am and had Josh up by 7. By 8am, we were en route to an activity. By 6pm we were back at lodging, dinner around 7:30pm. Rinse and repeat.
DAY 1 – Whitewater kayaking on the Río Pejibaye
Unfortunately, I managed to break my ankle during this outing!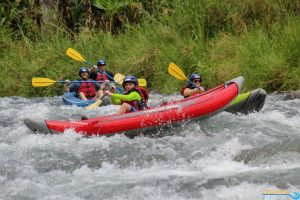 Toward the end of the last run, I got stuck on some rocks. The area was very calm, so I jumped out to push myself free… and stepped into a hole.
Because I didn't see a doctor, I thought it was just a nasty sprain. I had no way of knowing it was broken until Mandy made me get an x-ray when I got home. Turns out I had a "Lateral Malleolus Fracture".
Setting that aside, we had a blast kayaking!
DAY 2 – Canyoneering
This was basically a five hour hike into the mountains thru some canyons. Since there was absolutely no way I could keep up, I had to sit this one out. Believe me I was bummed, this is one of the days I was looking forward to most.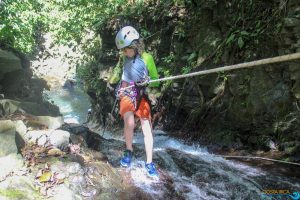 But Josh had a blast. During the hike, he got to see all kinds of awesome rainforest creatures. The highlight was climbing and repelling down waterfalls.
After lunch, we stopped at a tiny village pub. Josh and I sang Bob Marley's Three Little Birds on karaoke. It was either that or Welcome to Atlanta by Ludacris (lol).
That evening we drove to Puerto Viejo to a new hotel. We took a quick swim in the pool, then an evening walk along beach before dinner at a restaurant in town.
DAY 3 – Beach, kayaking, jungle hike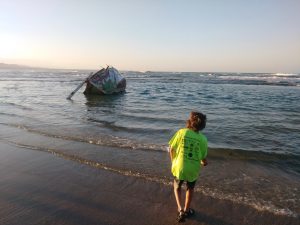 We spent the morning at a secluded beach in Puerto Viejo. Just beyond the dunes was a lazy river.
Kayaking down that river ranks as one of the most awesome experiences of my life. It was morning and we were surrounded by straight up jungle. All around us: monkeys, sloths, colorful birds, turtles with crazy-long necks.
Our guide had led the way out on a paddle board. When we turned back, he swapped with Josh and Josh paddle boarded the whole way back. I have some AWESOME pictures and videos of this on the GoPro—which got smashed on the last day! (@#$%!!!!)
Then we spent a couple hours boogie boarding on the beach. After, we did the only "touristy" thing of the whole trip, which was a two mile hike along the beach in the Cahuita National Park. I say "touristy" because the first quarter mile was fairly crowded. But the further in we went, the fewer people we saw.
This was awesome for the wildlife though, including up-close encounters with monkeys, a sting ray, and even a pit viper!
That night we returned to Villa Florencia.
DAY 4 – Whitewater rafting to the Eco Lodge
After breakfast, we began our day at a small ranch in the mountains. We picked coffee beans and tea leafs, then learned how to make cheese tortillas from scratch… which we washed down with tea made from the leafs we had just picked (YUM!!!).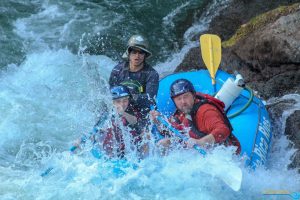 After, we went white water rafting (class 3&4) along the Río Pacuare. Pacuare is ranked as one of the top 5 rafting rivers in the world, and it lived up to it's reputation! Our trip was about 3 hours long and included some lazy spots for swimming alongside and cliff jumping here and there.
This is how we arrived at the Eco Lodge, the greatest challenge for my ankle. When we got out of the raft, we had only a quarter mile hike thru the rain forest… but it was very, very vertical. Much of the path was makeshift stairs, endless steps. So many steps that it felt like we were on a climb to seek wisdom from the Maharishi.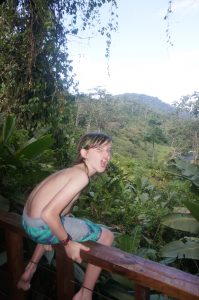 But it WAS SO WORTH IT!
Talk about awesome! We ended up at an eco lodge perched on a ridge above Río Pacuare where we would spend the next two nights. There was running water, but no electricity. The accommodations were mind-blowing! The entire front wall of our cabin was screen (no glass). And our porch hung off the cliff on the ridge, providing a spectacular view!
By far, nights here were the best. Once the tiki torches on the main pavilion went out, there was no light anywhere. For miles. We went to sleep to the sounds of the rain forest, in living color! Imagine one of those sleep machines, cranked up, and broadcasting over a crystal clear surround sound system. 
DAY 5 – Zip-lining through jungle canopy
The zip-lines were a short hike away from the eco lodge. There were 5 lines, criss-crossing from ridge to ridge. They were amazingly long—added together, perhaps 3/4 of a mile? Most of the platforms were maybe a 120 feet up, but you zipped out over much higher space.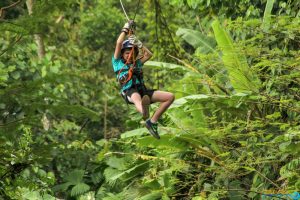 This was super cool, and Josh kept begging to go first. I can only imagine the GoPro footage is pretty spectacular.
The best part for me came at the end, the "Jungle Swing" as they called it. Basically, it was a bungie jump… up stupid high! This was the only thing Joshy wouldn't do. He totally missed out, though. This was not—by far—one of the scariest things I've ever done, but it ranks right up there as one of the most fun.
Oh man, makes me want to cry for the GoPro! It was on my helmet when I jumped. The pictures taken by the tour photographer simply don't do it justice because his vantage point was roughly midway down, and he was zoomed in on me. So the pictures don't come close to approximating distances, nor to the show the spectacular seen I was looking at before I jumped.
DAY 6 – Horseback riding
Because Josh was only 10, for liability reasons we were not allowed to raft out of the Eco Lodge. On that trip, the rest of our group did the world renowned Class 5 rapids of the Pacuare. Instead, the guides arranged for Josh and I to horseback our way out of the mountains.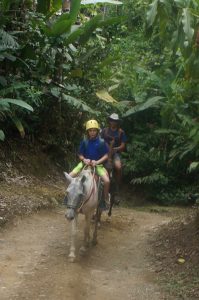 This was definitely a pretty awesome experience. We followed a dirt road out, much of which could only be traversed by a serious 4×4. Much of the terrain was very, very steep. I was able to control my steed (mostly), but Josh—being a bit timid—had a tougher time keeping his horse on task. That said, Joshy got the job done and really enjoyed the experience.
Once back to civilization, a bus picked up the rafters then scooped us up. We stopped off in downtown Turrialba and spent a couple hours walking around a farmers market and various other shops. That evening we returned to Villa Florencia for our final night in Costa Rica.
That, by the way, is when we learned of the chaos in the States. During our first night at the Eco Lodge, that was when America panicked, emptied the store shelves, and bought up all the TP. Because the Eco Lodge was so remote and offered no electricity, we had no WiFi, no cell service, no internet. Over the next three days, we were blissfully unaware of unfolding events caused by the pandemic.
We had been completely off the grid and had zero clue that the whole world had gone nuts. Man, it was freaky seeing all the Facebook posts of empty store shelves. And, of course, going through the airports on our return was more than a little unsettling!

Watching this video is when I first realized just how crazy things had gotten in the States while Josh and I were off the grid. It was posted on Facebook by my buddy Steve (the "Man-Host" for Nate's trip to SoCal):
Photos & Videos
Because of Covid-19, we have been stuck in quarantine and have not been able to share our adventures with any of Josh's grandparents. Hence the reason I decided to put these photos online.
The albums are organized by what what we did on each day, with the exception of "Assorted". That album is a compilation of things that didn't fit anywhere else.
For pictures, click on any link below:
About the Trip | Assorted | Day 1 | Day 2 | Day 3 | Day 4 | Day 5 | Day 6