Nate's Man Trip – About the Trip
The Man-Host
My homie Steve Carlson grew up in SoCal and spent much of his youth exploring the natural wonders of California, right in his own backyard. Though Steve is a "total twit" (video proof here), we gave him a shot anyhow.
Kidding aside, Steve took the week off and chilled with us, acting as adventure guide, campfire cook, trouble seeker, comic relief, and DJ extraordinaire—pretty sure I listened to more punk rock out there than I have in the last 20 years combined.
Stevie did a bang-up job and the trip was pretty dern man-tastic!
Our Adventures
Nate's wish was to see the redwood forest, or a desert. We were able to kill both birds with a single stone by spending a week in Southern California.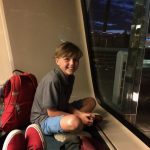 Like his brothers, the trip out—specifically flying—was an exciting adventure for Nate. Everything out of Jax required a zillion connections, so we ended up leaving out of Orlando for a direct flight to LA. Even before we caught that flight, Nate was totally stoked to ride the monorail out to the terminal. 
Since we needed a vehicle that could carry a lot of gear and handle a bit of off-roading, we rented an SUV for the week. Steve scooped us up from LAX, took us to pick up the waiting rental near his house, then we followed him to his place in Anaheim.
Nate and I spent most of the next day riding rollercoasters at Knott's Berry Farm while Steve wrapped up some last minute business.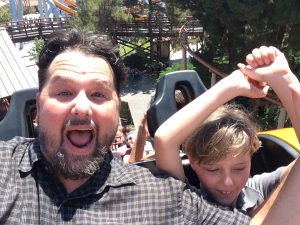 After that, the true adventures began. We spent the first and last nights at Steve's place in Anaheim, the rest on the road. We put almost 1500 miles on the rental, traipsing around south-central Cali. The majority of our time was spent in:
• Sequoia National Park
• Yosemite National Park
• Death Valley National Park
Sequoia – Big Trees & Cliff Diving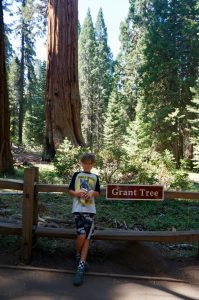 In Sequoia NP, Nate got to see the largest (General Sherman) and third largest (General Grant) trees in the world.
As awesome as that was, it wasn't the first thing he bragged about to his brothers when he got home. Rather, he couldn't wait to tell them all about The Cliffs. The Cliffs are kind of a "locals only" deal in Sequoia NP where the river has cut a ravine thru granite, creating some spectacular cliffs. To get to it, you have to find and then follow an unmarked path through the forest and down the mountain side.
Basically, the place is one hella-amazing swimming hole, surrounded by cliffs you can jump from, heights ranging from about 25′ to 70′ (we saw some bag of nuts do a flip off of that one!). The moment we arrived, Nate turned us into instant celebrities (I'll share that story on the Sequoia picture page).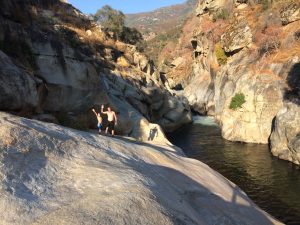 After that, Nate used his bravery to flog nervous adults, taking great joy in asking them if he could go ahead and go while they continue to think about it. Pretty flipping hilarious to listen to the nervous nellies buds after Nate just walked right up and jumped! "Dude! You just got owned by that little kid! Come on man, now you gotta go!" haha. Prolly the best one was this Navy kid, a whole group of them were there on leave.
There was one guy in particular up on the "Saddle" (about 30′, maybe 35′ high), Nate loves to point out that he had a mustache. Anyway, Nate got tired of waiting as the dude worked up nerve, asked if he could go. Once in the water, Nate shouted up: "NOW can you go???"
Bwaaaahahaha! Oh man, all the mustache dude's homies fell over laughing!
Yosemite – Rock Climbing & Bridge Jumping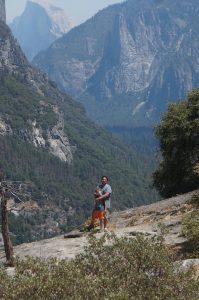 In Yosemite, Nate went for a big-kid-shaming repeat. We had gone on a hike and, on the return, passed over a bridge where a group of teenagers were sitting, trying to work up the nerve to jump. Nate asks if he can jump, I said sure, and he just climbs right over and jumps. After that, they all start going. 😀
Yosemite did not disappoint, some of the most spectacular scenery on the planet. Nate wanted to climb Half Dome or El Cap but it was a bit late in the day (haha), so we hiked out into the woods to find something a tad more suitable for a first climb. Found a good size boulder and Steve rigged up the ropes.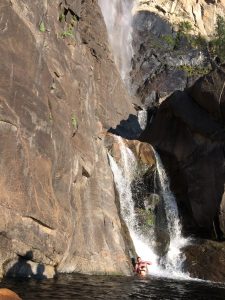 Oddly, once safely secured in a climbing harness, Nate finally found a touch of fear. Even though the boulder was only a tad higher than the cliffs he had been jumping from, Nate got a bit nervous. But he sucked it up and made it to the top.
After that, we broke down the ropes and hiked/climbed up to a pool beneath Bridal Veil to cool off.
Because we had stayed an extra night camping in Sequoia, time was short and we decided not to try camping in Yosemite, ended up camping in a hotel (washing off man stink was a bonus, believe me).
Death Valley – Fossil Hunting in the Desert (oops!)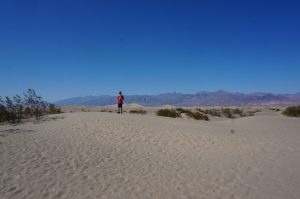 We had cut Yosemite short to check "desert" off Nate's list. Neither Steve or I had been looking forward to that leg of the journey. After Sequoia and Yosemite, riding around in the desert seemed anticlimactic. Turned out to be completely bad ass. To do it, we had to come down out of the mountains into Fresno, then back up into the mountains on the other side. As soon as we were out of the city… talk about an awesome ride!
Anyway, once you pass thru the last ridge and begin the descent into the valley… unbelievable. And thereafter… I don't know how to describe it. Surreal? Bleak? Bleak, but beautiful in its starkness.
Our original intent was to camp at Furness Creek (190′ below sea level), but when we got there it was 121° and overnight temps were projected to be 94°. No flipping way that was happening, so we decided to climb in elevation to camp. We ended up finding the most spectacular site ever.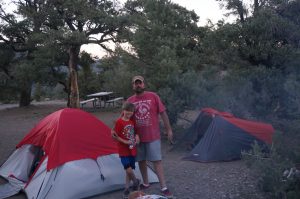 Essentially, we followed a windy two lane road off into the desert where the map listed three camp sites. About 20 miles out (and up), we passed a series of kilns used to smelt silver in the early 1800s. A mile or so above that, camp site one. After that, the pavement ended. A couple miles above that, campsite number two. After that, signs warned off non 4×4 equipped vehicles and the dirt road got pretty rough. A few miles later, the road dead ended on a peak called Mahogany Flat, just below Telescope Mountain (the highest point in Death Valley NP).
Unbelievable. Thanks to the site being so remote, we pretty much had it to ourselves (there were two other tents up there, but a good ways away). Having climbed up 8100′ (from -190′ a couple hours before), we had a most righteous panoramic view of Death Valley. Being up so high, the winds howled and shook the tent all night long. 
Photos & Videos
The albums below are organized by park, with the exception of "Assorted". That album is an overview of the trip, plus some things that weren't park specific.
For pictures, click on any link below: