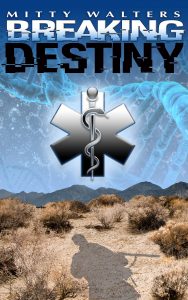 A quiet businessman—known by most as Joe Kettleman—narrowly survives an attempt on his life. While recovering from surgery to remove a bullet, imaging reveals a lethal tumor. Unwilling to spend his final days under chemical bombardment, he returns to a remote cabin in New Mexico to die in peace.
But when death takes its time and Joe outlives his supplies, he's forced to take a perilous journey through the deserts of the Bisti Badlands. Two days into what was supposed to be a five day trek, Joe comes across a town.
A small city, really. Right in the middle of nowhere.
And it's not on any map.
That's when Joe's fate collides with that of a beautiful young woman, desperate to escape the strange city and making wild claims about a genetically enhanced pandemic that will soon wipe out most of humanity.
Clearly she's delusional. But something has her genuinely terrified. To unravel the mystery, Joe will have to put his death on hold.
Is This Book 2 of the Breaking Series?
No. Not really. Each book tells a complete story and can stand alone.
That said, Breaking Destiny is a sideways companion to Breaking Gravity. The two adventures are taking place at the same time, each explores a different "scientific" discovery, and each follows a different set of characters. It does not matter which story is read first, but I recommend Breaking Gravity since it was written first.
Both stories–both scientific innovations and both sets of main characters–will come together in a third book, Breaking Everything.